Characterized by depressions, dimples, and bumps on the skin, cellulite is an aesthetic concern that affects approximately 85% of women over the age of 20. The good news is, individuals who are troubled by cellulite now have a few potential solutions, one of which is a revolutionary body contouring treatment known as the Cellfina™ System. Cleared by the FDA, Cellfina™ is designed to significantly diminish the appearance of cellulite in buttocks and thighs with longer-lasting results than previous alternatives.
Performed in-office by our plastic surgeon, Dr. Tiffany McCormack, this minimally invasive technique works to target and release the specific connective bands causing visible dimpling on the skin's surface. After just a single treatment session, most patients can attain smoother, more healthy-looking skin with little—if any—recovery or downtime. In addition, the improved appearance of cellulite following Cellfina™ has been clinically proven to last at least a year, which is currently the longest FDA-clearance for a cellulite procedure.
To schedule a consultation with Dr. McCormack to discover if Cellfina™ is right for you, please contact our office today.
Benefits of Cellfina™
Particularly common in women, cellulite forms when pockets of fat put pressure on fibrous bands under the skin, causing these connective tissues to pull the skin downward. This can be the result of several different factors, including the specific way the body distributes fat, skin thickness, genetics, and the natural process of aging. Cellfina™ works to release these connective bands, effectively helping to smooth the surface of the skin. Chief benefits of this innovative treatment are listed below.
No incisions or surgery of any kind

Procedure can be administered in-office

Little to no discomfort during and after treatment

Relatively quick, noticeable results

Minimal, if any, recovery or downtime

Outcomes that can last a year, potentially longer
Ultimately, clinical studies have shown that 94% of patients were happy with the outcomes of Cellfina™ a year after treatment.
Why Come to McCormack Plastic Surgery for Cellfina™?
Cellfina™ is currently offered only by core-focused, board certified physicians, though not all qualified practitioners are able to achieve optimal results. Technique, training, and experience matter greatly in tailoring this technique to achieve the best outcome possible. Dr. McCormack is extensively trained and educated in the most advanced application of Cellfina™, and she has an unmatched level of experience in utilizing it to reduce the appearance of cellulite on numerous areas of the body.
By choosing McCormack Plastic Surgery for your Cellfina™ treatment, you can be sure you are receiving top-of-the-line care from a highly skilled provider, all in a safe and controlled environment. Dr. McCormack maintains a strict code of ethics, and in the rare case an issue should occur, our team is distinctively qualified to control the situation with an unmatched degree of personalized attention. Ultimately, Cellfina™ will only be recommended if Dr. McCormack believes it is the most effective procedure your individual needs, as she would never perform a treatment that she does not feel would achieve an ideal result.
The Cellfina™ Procedure
During the minimally invasive Cellfina™ treatment, Dr. McCormack will use a small device (approximately the size of a needle) to apply brief, light pressure to selected fibrous bands in the targeted area. Administered repeatedly during the procedure, this pressure works to "unravel" and eventually fully release the tissues that are causing dimpling on the surface of the skin. Once released, skin in the treatment area should bounce back and smooth itself out, typically in as little as three days. Depending on the extent of cellulite and number of areas being addressed, the Cellfina™ procedure often takes about about 45 minutes to complete.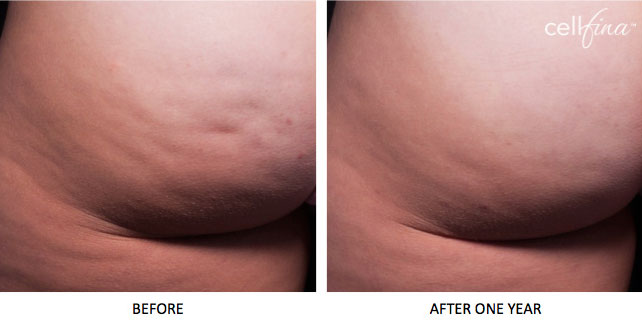 Cellfina™ Recovery
Following treatment with the Cellfina™ System, some temporary bruising and/or soreness in the targeted region(s) may be present, though these symptoms should subside relatively quickly. Additionally, any potential discomfort – which is often described as mild – should dissipate shortly. After about about three days, a significant decrease in cellulite is generally apparent in the treatment area, and final outcomes have been known to extend at least a year, if not longer. Most patients are able to resume normal, non-strenuous activities and routines when they leave the office.
It is important to note that treatment and results will vary by individual, but the satisfaction rates reported by patients who have received Cellfina™ have been some of the highest among many other popular alternatives.
Other Cellulite Treatments
If you are not considered a good candidate for Cellfina™, or if you would simply like to learn about another cellulite reduction option, we encourage you to visit our page on Cellulaze™. This non-surgical cellulite treatment can provide significant, long-lasting results on numerous regions of the body.
Contact McCormack Plastic Surgery
For more information about the Cellfina™ System, or if you would like to schedule a consultation at our office, please do not hesitate to contact us today.