Painful waxing and the hassle of continuously shaving undesired hair that pops up on our bodies can become a thing of the past once you've had laser hair removal. One of the most common cosmetic laser treatments available, laser hair removal is designed to get rid of unwanted hair in virtually any body area— permanently. Board-certified plastic surgeon Tiffany McCormack, MD uses the state-of-the-art GentleMax® Pro laser hair removal system, a highly effective procedure from our medi spa that can be used on all skin types and meet patients' goals in fewer treatment sessions than is typically required by other laser systems.
Contact McCormack Plastic Surgery to schedule a consultation for laser hair removal in the Reno, Nevada and Lake Tahoe, California area.
How Does Laser Hair Removal Work?
One of the latest and most advanced methods of laser hair removal, GentleMax® Pro targets and eliminates hair follicles using light energy from two powerful lasers: the Alexandrite laser for lighter skin types, and a special laser that operates at a higher wavelength for darker skin tones. The system can be a means of long-lasting hair removal without the possibility of regrowth for virtually any region of the body— the most popular treatment areas including the upper lip, underarms, arms, legs, and back.
GentleMax® Pro uses fast bursts of light to destroy hair follicles in the chosen area(s) without harming surrounding skin. To begin treatment, the targeted regions are cleansed and eye protection is provided. A fraction of a second before each pulse of light is delivered, a Dynamic Cooling Device™ sprays cryogen onto the skin to cool the area and increase comfort during treatment. A topical anesthetic can also be applied to numb the skin, if requested. Each session can take anywhere from a few minutes to an hour, depending on the size and number of treatment areas.

Who is a Candidate for Laser Hair Removal with GentleMax® Pro?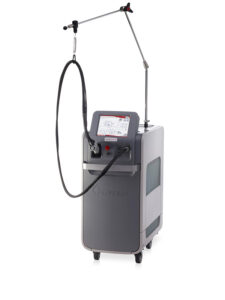 Unlike other laser hair removal treatments, this system can be used on all natural skin tones. Dr. McCormack will meet with you during a consultation to examine your medical history and determine if GentleMax® Pro is the most ideal solution to meet your hair removal goals. Generally speaking, patients who are actively tanned or sunburned may need to postpone their treatment to a later date.
Is Laser Hair Removal Safe?
Here at M Spa, we use highly trained and experienced Registered Nurses to deliver our laser hair removal treatments. Laser hair removal is considered a safe and effective way to significantly reduce unwanted hair. Light-based cosmetic therapies have been used safely for many years and typically have little risk of long-term side effects when treatment is performed by a licensed healthcare practitioner who is certified to do so.
Are There Any Side Effects After Laser Hair Removal?
Following treatment, you may experience the feeling of a sunburn as well as temporary redness and swelling. The skin may also feel sensitive or tender, with some patients experiencing a tingling sensation comparable to how the skin feels after being plucked or waxed. These reactions typically resolve within a few hours, but a cool compress or aloe vera gel can help soothe any discomfort until the effects subside.
How Many Laser Hair Removal Sessions Will I Need?
An immediate reduction in your hair count can be noticed after one treatment session; however, due to the cyclical pattern of hair growth, most patients experience optimal results after three to nine sessions. Dr. McCormack will go over what you can expect at the time of consultation.
How Long Does Laser Hair Removal Last?
Once your treatment plan is complete and the desired outcome has been achieved, the results from laser hair removal with the GentleMax® Pro can last indefinitely. This technique can achieve long-term hair reduction that outlasts the outcomes of other technologies. Should hair in the treated area grow back, it typically appears finer, lighter, and much less noticeable than before treatment.
How Much Does Laser Hair Removal Cost?
The cost of laser hair removal treatment varies widely according to your geographic location and the details of your treatment plan, such as:
The size of the treatment area
The number of regions planned for treatment
The number of sessions necessary to achieve your cosmetic goals
A personalized quote of your expenses will be provided as soon as your needs are assessed in a consultation. At the M Spa, we offer a number of financing options to help make treatment more affordable, including flexible plans offered by CareCredit®, Alphaeon™ Credit, and Prosper® Healthcare Lending. These reputable healthcare lending companies allow qualified applicants to choose from a range of short- and long-term payment plans with low monthly installments, giving approved patients the opportunity to receive their desired enhancement while accommodating their budgetary concerns. If you have questions about the application process, or if you would like to learn more about the cost of laser hair removal, please reach out to the M Spa to speak to a member of our team.
For more information on laser hair removal, or to book an appointment with Dr. McCormack, please don't hesitate to contact our practice.