Childbirth, significant weight loss, trauma, genetics, and the natural aging process can all lead to vaginal tissue changes. As a result of these changes, women may find that exercise causes discomfort, physical intimacy becomes painful, and/or clothing does not fit properly. In addition, some women may experience vaginal dryness, itching, laxity, or urinary incontinence. At McCormack Plastic Surgery, board-certified plastic surgeon Tiffany McCormack, MD offers two methods of vaginal rejuvenation that can treat these symptoms, reverse the negative changes, and restore your quality of life: labiaplasty and the non-surgical FemTouch™ laser. Learn more about both treatments below.
Labiaplasty
Labiaplasty is a procedure designed to alter stretched or enlarged tissue of the labia minora and/or labia majora. Though labiaplasty certainly has cosmetic benefits, many women choose to undergo the procedure to improve the fit and comfort of clothing, resolve discomfort or pain that may occur during exercise or intercourse, or find a renewed confidence in their bodies.
Candidates for Labiaplasty
Ideal candidates for labiaplasty will typically have one or more of the following characteristics:
Enlarged/excess labial tissue
Stretched labial tissue
Asymmetrical labial tissue
Many women who choose to undergo labiaplasty seek to counter the effects of childbirth, significant weight loss, the natural aging process, or simply genetics. The most common reasons women choose labiaplasty are physical discomfort or self-consciousness. During the consultation process, Dr. McCormack will perform a physical examination, review your medical history, discuss your expectations for the procedure, and determine if you are a good candidate for labiaplasty.
The Labiaplasty Procedure
Labiaplasty is typically performed as an outpatient procedure. There are a variety of techniques that can be employed during surgery, including both the edge-trim and wedge excision methods. Dr. McCormack customizes each labiaplasty procedure to meet the unique needs of the patient, and she will determine the most appropriate approach at the time of the consultation. The average surgery takes one to two hours to complete, and in most cases, only local anesthesia is required (though general anesthesia is an option for patients who need or desire it).
Labiaplasty Recovery and Results
After the labiaplasty procedure, patients are generally able to return home, though we recommend a family member or loved one be available for assistance. As with any surgery, patients can expect minor swelling or bruising, but these symptoms should resolve over time. Over-the-counter medication can usually help manage any discomfort that may be experienced initially, and most patients are able to return to their normal daily activities within two to three days. Any physical activity (including intercourse), however, should be avoided for at least four to six weeks while the body fully heals.
Ultimately, women often report a significant improvement in overall quality of life after labiaplasty, noting that they feel more comfortable and confident in situations that would previously have been physically and/or psychologically problematic.
The Lumenis® FemTouch™ Laser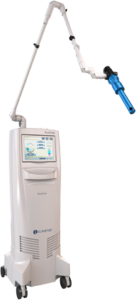 With age, many women will experience vaginal and urinary system changes that negatively affect their everyday lives. Developed by Lumenis®—a leader in aesthetic medical lasers—the FemTouch™ laser is designed to nonsurgically improve overall vaginal wellness, helping to relieve uncomfortable and even embarrassing feminine situations. Using this innovative technology, Dr. McCormack can treat a variety of common conditions, including dryness, itching, pain during intercourse, laxity, and urgency or stress urinary incontinence. Best of all, the FemTouch™ procedure can be performed quickly with no downtime, allowing patients to receive treatment without any significant interruption to their normal daily routines.
How Does the FemTouch™ Laser Work?
FemTouch™ utilizes CO2 laser technology to stimulate the natural production of collagen, helping to trigger new tissue remodeling. This innovative technique can simultaneously reduce or eliminate many common vaginal health issues without the use of hormones. FemTouch™ is a minimally invasive, in-office procedure that can be completed within just a few minutes and has no associated downtime. Many of our patients at McCormack Plastic Surgery have the treatment performed during their lunch hour or in-between errands.
Candidates for FemTouch™
The best way to determine your candidacy for FemTouch™ is to schedule a consultation at our practice. During the consultation process, Dr. McCormack will carefully review your medical history, perform a physical examination, and discuss your personal needs and expectations to help ensure FemTouch™ is the best option for you. Not all women will be ideal candidates for FemTouch™, including those with a history of keloid formation or those who have taken Accutane® (Isotretinoin) within the past year. Risks associated with FemTouch™ can include redness, change of pigmentation or texture, scarring, or infection. However, for most women, there are no negative side effects from the FemTouch™ procedure.
FemTouch™ Procedure and Results
The FemTouch™ procedure is performed with a sterilized applicator containing the laser. Often in as little as five minutes, the entire surface of the vaginal lining will be treated as the applicator is guided along the vaginal walls in an outward motion. Some patients experience a minor heating sensation during and immediately after treatment, though this heat does not usually cause any pain or discomfort. As a result, anesthesia and/or pain medication are not generally required before or after the procedure.
There is typically no recovery period associated with FemTouch™, so most individuals can resume their everyday activities right away. In most cases, a total of three FemTouch™ sessions are needed to achieve optimal results, though many patients notice a significant improvement after the first treatment.
Contact Our Office
If you would like more information about labiaplasty and/or the FemTouch™ laser, or if you wish to schedule a consultation with Dr. McCormack, please contact McCormack Plastic Surgery today.