Under the medical supervision of board-certified plastic surgeon Tiffany McCormack, MD, our practice offers a full array of skin care products to correct the skin as well as to prevent further damage. We invite you to come in for a complimentary skin care consultation to discuss your individual needs.
Complimentary Professional Skin Analysis
The early detection of skin damage is very important to us. We use advanced technology to fluoresce facial topography and highlight areas that are damaged from sun exposure. Our medical aestheticians will also identify the parts of your face that are oily and the parts that are dry. This all helps to accurately assess the proper skin treatment specific to your skin type.
Skin Care Treatments
The Skin Firming Facial – $90 & up
This treatment is designed to leave your skin luminous and hydrated, with a healthy radiant complexion. It is ideal before special occasions when you desire a glowing, visibly youthful appearance.
Deep Pore Cleansing Facial – $75 & up
This is the perfect treatment for anyone experiencing acne. A combination of products used help draw out impurities, reduce oil, and limit drying. Includes extractions.
Microdermabrasion – $95, $135 w/ facial, or $160 & up w/ peel
Our diamond-tipped technology is a great treatment with no down time that gently resurfaces & improves the overall texture of the skin while decreasing pigmentation, scars, fine lines, and wrinkles.
Chemical Peel Treatment – $110 & up, Packages available
This customized peel is designed for all skin types leaving your skin hydrated and healthy. This helps minimize the appearance of lines and smooth rough skin. It will aid in clearing acne and help fade hyperpigmentation. For optimal results, 6 treatments are suggested.
Dermaplaning – $60 or $35 with another service
Dermaplaning removes the outermost layers of dead skin cells and fine, unwanted hair to leave your skin feeling immediately smooth, supple, and vibrant. It is often used in conjunction with a facial or peel.
Facial Waxing – $20 & up, Body Waxing – $35 & up
Shape your brows or remove unwanted hair from the upper lip, chin, and other areas upon request.
Lash and Brow Tinting $20 & up
Darken your lashes or brows for better definition.
Skin Care Products
ZO® Skin Health
ZO® Skin Health products are designed to help you achieve and sustain healthy skin for a beautiful, radiant glow. Available for every age, ethnicity, and skin type, these innovative products utilize advanced therapeutic solutions to treat a wide array of skin conditions, including age and sun spots, discolorations, oily skin, acne, and more. Additionally, they help protect the skin from harmful environmental factors and future potential damage. To find a skincare product that's right for your unique needs and goals, click on the button below to access Dr. McCormack's personal ZO® Skin Health online store.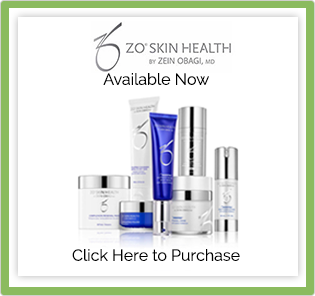 SkinMedica®
Founded by physicians and rooted in science, SkinMedica® is committed to advancing the science of skin rejuvenation through research and innovation. Whatever your skin care needs or challenges may be, you deserve healthier skin. Our skin care professionals can help you determine exactly what your skin needs and help combine products and create a personalized regime for you. For your convenience, click on the button below to shop SkinMedica® products and have them delivered when and where you need them.