We know the first step in achieving the glowing, healthy complexion you desire is an accurate evaluation of your skin. Our aestheticians and skincare specialists at McCormack Plastic Surgery and M Spa are thrilled to offer patients the latest in sophisticated skincare imaging technology. VISIA® is an advanced skin assessment tool that can provide a comprehensive picture of your skin health in order to identify areas for potential improvement. This nuanced skin evaluation helps our team formulate the most accurate treatment plan to achieve your goals. VISIA® can also allow you to "preview" the potential results of certain injectables and dermal fillers, and even observe an aging simulation of your appearance years into the future!
What is VISIA® Skin Analysis?
VISIA® can provide a meticulous assessment of your skin health by tracking conditions on the surface and subsurface of the skin. Patients simply rest their head in front of the facial imaging booth while the module scans the perimeter of the face. Based on these advanced facial scans, which reveal magnified details of the epidermis, VISIA® can measure the development of wrinkles, pigmentation, red areas, sun damage, and other common skin concerns. VISIA® even allows us to track the presence of porphyrins, which can signify bacteria buildup that may lead to the onset of acne.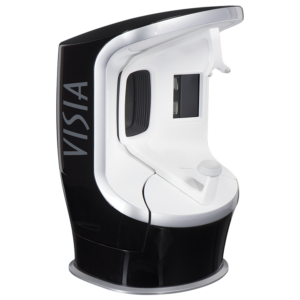 How Can VISIA® Assist My Consultation?
As a multi-point positioning system capable of capturing the entire width and length of the face, VISIA® can scan your entire complexion to reveal details unseen by the naked eye. This makes it possible to:
Track Wrinkles, Brown Spots, Large Pores, and More
Using a combination of UV fluorescence imaging and RBX Technology®, VISIA® can map the presence of common skin conditions, such as:
Brown spots
Rough texture
Clogged pores
Sun-damaged skin
Red areas
Porphyrins
This visual data gives our team a transformative metric in determining the best possible facial services and skincare products for your unique concerns.
"Try On" a Filler or Injectable
If you've ever wondered whether you could benefit from BOTOX® Cosmetic or dermal fillers but were unsure how you would look with cosmetic injectables, VISIA® can give you a virtual preview of the potential results. See the possible outcome of treatment with cheek and lip fillers, as well as BOTOX® Cosmetic for frown lines and/or crow's feet. This can shed light on what you can expect from injectables and help you make a better informed decision about your treatment options.
Advanced Aging Simulation
With the technology's aging simulation feature, patients can see their unique rate of aging unfold in real time! This tool depicts a representation of what your skin and appearance may look like from your current age to 80 years old. As a result, VISIA® can allow us to tailor a long-term skincare regimen to achieve your cosmetic goals and ideal appearance.
Achieve Your Skincare Goals with VISIA® Complexion Analysis
Unmatched in complexion analysis software, VISIA® is available at our Lake Tahoe and Reno-area practices. If you are ready to schedule a skincare consultation, please contact McCormack Plastic Surgery for more information.