CoolSculpting® is a new, FDA approved, non-invasive alternative to liposuction that can selectively target and eliminate fat cells resulting in a natural-looking reduction of trouble areas. While effectively reducing fat without harming surrounding tissue, the advanced cooling technology allows Dr. Tiffany McCormack to reduce excess fat in the abdomen, love handles, and back with a more gentle, less invasive procedure compared to other fat removal techniques.
Why Come to McCormack Plastic Surgery for CoolSculpting®?
McCormack Plastic Surgery stands out among medical spas, non-core specialists, and other practices that provide CoolSculpting®. Dr. McCormack has received extensive training in CoolSculpting®, and as the first practitioner in Nevada to offer the innovative technique after its FDA approval in 2010, she has an unprecedented level of experience in using it to reduce stubborn pockets of fat for both women and men. Furthermore, our Registered Nurse has attained full training in CoolSculpting®, and she is highly skilled in performing treatments with the utmost degree of safety and efficacy.
When you choose our practice for CoolSculpting®, you can feel confident and completely at ease knowing you are not only receiving treatment from an expert provider, but that a board certified plastic surgeon who operates under a rigid code of ethics is also on-site. Additionally, in the exceedingly rare case a complication should occur, you can have peace of mind that our team is qualified to handle whatever may arise. Ultimately, CoolSculpting® at our office will only be performed if it is right for you, as Dr. McCormack would never recommend a technique that she does not believe is the best option for your specific needs and goals.
The CoolSculpting® Procedure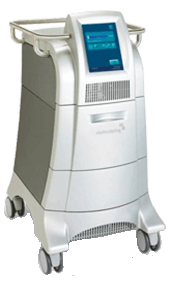 Cryolipolysis is a non-invasive technique, developed by CoolSculpting®, that can improve your body contour by reducing fat cells in specific areas of the body and enhancing its overall shape. The CoolSculpting® procedure is performed in our office under Dr. McCormack's supervision. During the procedure, the fat cells are damaged as the cooled device is pressed against the target area, drawing tissue into a cup with mild vacuum-like pressure. This process causes an inflammatory response in the body, eventually leading to the breakdown and natural disposal of the damaged fat cells.
Through a process called "apoptosis," the cooled fat cells begin to shrink and are slowly digested over several months, gradually being removed through the liver. The result is a reduction in the targeted areas that is visible in most patients in about two to four months.
Read CoolSculpting® Consumer Q&A
Recovery
Patients may experience a slightly uncomfortable feeling with the contact of the cold device, which usually subsides after about ten minutes. Redness of the skin can last for several minutes to several hours following the treatment. However, because there is no need for anesthesia, needles, surgical incisions, or pain medication, recovery time is minimal. Most patients typically return to their routine activities, such as work and exercise regimens, on the same day as the procedure.
Results
Results from the procedure performed at our Reno plastic surgery practice have been remarkable. To view actual patients treated by Dr. McCormack, be sure to visit our CoolSculpting® before and after photo gallery.
Contact Dr. Tiffany McCormack

With CoolSculpting®, Dr. Tiffany McCormack can help you reduce areas of excess fat and have you up and running almost immediately after the procedure. For more information about this exciting technology and to arrange your private consultation, we invite you to call our office at (775) 284-2020.