What is CoolSculpting®?
CoolSculpting® is a new, non-invasive alternative to liposuction that is FDA-approved to selectively target and eliminate fat cells. This results in natural-looking fat reduction of isolated fat bulges and trouble areas. Using advanced cooling technology, this treatment can effectively rid the body of excess fat in the abdomen, love handles, and back without harming surrounding tissue. Performed as an in-office body contouring procedure at our Reno practice, CoolSculpting® can be a gentler, less invasive approach compared to other fat removal techniques.
We know you have questions about CoolSculpting®. Please visit our CoolSculpting® specialty site to learn everything you need to know about treatment from our team of fully certified CoolSculpting® providers. For more information on our non-surgical services, we invite you to explore our M Spa site to find out how you can achieve your aesthetic goals at our physician-led medical spa.
Why Come to M Spa for CoolSculpting®?
McCormack Plastic Surgery and M Spa, our fully equipped non-surgical facility, stand out among other medical spas, non-core specialists, and practices that provide CoolSculpting®. Dr. McCormack has received extensive training in CoolSculpting® and was the first practitioner in Nevada to offer the innovative technique after its FDA approval in 2010. Needless to say, she has an unprecedented level of experience using CoolSculpting® to reduce stubborn pockets of fat for both women and men. Furthermore, our Registered Nurses and aesthetic providers have attained full training in CoolSculpting®, and they are highly skilled in performing treatments with the utmost degree of safety and efficacy.
When you choose our practice for CoolSculpting®, you can feel confident and completely at ease knowing you are not only receiving treatment from an expert provider, but that a board-certified plastic surgeon who operates under a rigid code of ethics is also on-site. Additionally, in the exceedingly rare case that a complication should occur, you can have peace of mind that our team is qualified to handle whatever may arise. Ultimately, CoolSculpting® at our office will only be performed if it is right for you, as Dr. McCormack would never recommend a technique that she does not believe is the best option for your specific needs and goals.
What Areas of the Body Can CoolSculpting® Treat?
As a versatile body contouring treatment, CoolSculpting® can target localized pockets of fat in several body areas, including:
Abdomen
Under the chin (submental)
Back
Flanks
Bra strap area
Axilla (underarms)
Upper arms
Inner or outer thighs
"Banana roll"
These regions are typically prone to excess fat accumulation and often remain resistant to dieting, exercise, and toning efforts. Depending on your cosmetic goals and anatomical needs, CoolSculpting® has been proven to effectively treat these areas and achieve a 20 to 30 percent reduction in fat per session. In general, patients who seek further fat removal in a single body area, or fat removal in multiple areas, can pursue additional CoolSculpting® sessions. After discussing your concerns in a consultation, Dr. McCormack can develop a personalized treatment plan to determine the number of sessions necessary to meet your aesthetic goals.
How Does CoolSculpting® Work?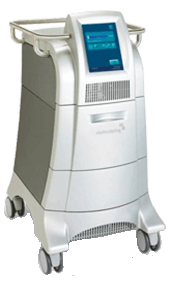 Cryolipolysis™ is a non-invasive technique developed by CoolSculpting® that can improve your body contour by reducing fat cells in specific areas of the body and enhancing its overall shape. The CoolSculpting® procedure is performed in our office under Dr. McCormack's supervision. During the procedure, the fat cells are damaged as the cooled device is pressed against the target area, drawing tissue into a cup with mild vacuum-like pressure. This process causes an inflammatory response in the body, eventually leading to the breakdown and natural disposal of the damaged fat cells.
Through a process called "apoptosis," the cooled fat cells begin to shrink and are slowly digested over several months, gradually removed through the liver. In this way, fat can be shed without the need for needles or incisions. The result is a reduction in the targeted areas that is visible for most patients in about two to four months.
Read CoolSculpting® Consumer Q&A
How is CoolSculpting® Performed?
Each treatment is performed at M Spa by our certified CoolSculpting® providers, who have all completed full training at CoolSculpting® University. A gel pad is placed in the area(s) of treatment to provide a protective barrier between your skin and the cooling panels of the CoolSculpting® applicator. As the applicators begin to emit cold temperatures, you may feel a suctioning, pulling, or tugging sensation at the treatment site(s). The area should go numb as the cooling effect takes over, and patients can spend the remainder of their appointment relaxing as they please. Each CoolSculpting® session takes approximately one hour depending on the size of the treated area(s) and the types of applicators used. After the CoolSculpting® applicators are removed, the region will then be massaged to break up the destroyed fat cells. There is no extensive downtime necessary after treatment and patients can resume their normal routines right away.
CoolSculpting® Elite
For the right patient, CoolSculpting® Elite can provide a more efficient, effective, and convenient fat reduction treatment than ever before! CoolSculpting® Elite generally involves the same process as a standard CoolSculpting® session, only the applicators utilized are able to treat multiple regions at the same time. Dual applicators are used during a single appointment, allowing patients to shape more than one region in the same amount of time! The cooling panels are also 18 percent larger than the machine's predecessor to address a larger surface area than was previously possible. Not only can these applicators be more efficient, but they are also C-shaped to more precisely conform to the natural curves of your body. This can make treating areas like the waist, thighs, and abdomen more accurate and comfortable.
As a result of these improvements, CoolSculpting® Elite is often considered the next generation of CoolSculpting®. If you're interested in upgrading to CoolSculpting® Elite, Dr. McCormack or our certified CoolSculpting® providers can discuss treatment with you in further detail.
What is CoolSculpting® Recovery Like?
Patients may experience a slightly uncomfortable feeling with the contact of the cold device, which usually subsides after about ten minutes. Redness of the skin can last anywhere from several minutes to several hours following the treatment. However, because there is no need for anesthesia, needles, surgical incisions, or pain medication, recovery time is minimal. Most patients typically return to their routine activities, such as work and exercise regimens, on the same day as the procedure.
What Results Can I Expect From CoolSculpting®?
Results from the procedure performed at our Reno plastic surgery practice have been remarkable. As your body naturally sheds the fat through its metabolic processes, many patients begin to notice enhancement in as little as three weeks, with the final outcome realized in around two to four months. Thanks to the treatment's gradual reduction of fatty deposits over time, the results often appear even more natural when compared to other fat removal techniques. To view actual patients treated by Dr. McCormack, be sure to visit our CoolSculpting® before-and-after photos.
Accelerated Fat Reduction with ALASTIN® Skincare
One major advantage of undergoing CoolSculpting® at M Spa is our application of the ALASTIN Skincare® TransFORM Body Treatment after your session. This award-winning skin care product can enhance your results by speeding up the metabolization of your fat cells, ultimately allowing you to enjoy your new contours in less time than a standard CoolSculpting® treatment. This is made possible thanks to the product's formulation with TriHex Technology®, which helps to accelerate the natural healing and collagen-building processes in the body. The TransFORM Body Treatment can also help improve crepey skin in the treated region(s) for a smoother, firmer look all around.
How Long Does CoolSculpting® Last?
CoolSculpting® permanently destroys the fat cells targeted during treatment. Since fat cells do not regenerate after being metabolized, results from CoolSculpting® can last well into the future provided that patients maintain a stable weight. It's important to note that CoolSculpting® cannot prevent additional weight gain after treatment, so a healthy lifestyle consisting of nutritious meals and regular exercise is key to preserving your body contours. Otherwise, fat can still be distributed to other parts of the body as a patient's weight fluctuates.
What are the Most Common CoolSculpting® Side Effects?
During treatment, patients may experience some degree of tugging, pinching, or tingling sensations before numbness at the targeted sites. After the session, normal side effects may include temporary redness, swelling, tingling, bruising, or tenderness. These reactions typically resolve within a few days or weeks.
How Much Does CoolSculpting® Cost?
Depending on your aesthetic goals, CoolSculpting® can be a more affordable fat reduction technique when compared to surgical solutions, such as liposuction. While the unique details of your treatment plan will ultimately determine the price of CoolSculpting® treatment, factors that can affect your cost estimate may include:
The number of treatment sites
The number of sessions
The size of the areas planned for treatment
To make it easier for patients to bring the cost of CoolSculpting® into their budget, our practice accepts several modes of payment—including cash, checks, and all major credit cards—and works with several highly reputable plastic surgery financing companies. Options such as CareCredit®, Prosper® Healthcare Lending, and Alphaeon™ Credit offer many different payment plans with low monthly installments for qualified applicants, allowing you to pay for your CoolSculpting® treatment over a period of time as opposed to a lump sum in advance. If you have any questions or concerns about the cost of CoolSculpting®, please don't hesitate to reach out to our practice today.
Does DIY CoolSculpting® Work?
As the effectiveness of fat reduction through controlled-cooling technology is popularized, there are some online trends that claim at-home or "do-it-yourself" fat-freezing techniques can reproduce the same results as CoolSculpting®. Needless to say, fat reduction through Cryolipolysis™ is only safe and effective when performed in a medical setting by a trained CoolSculpting® provider. Not only are self-managed cooling treatments often unsuccessful and difficult (if not impossible) to control, they can also be downright dangerous without proper supervision from a physician.
Unlike DIY treatments, the FDA-approved CoolSculpting® procedure is specially designed and rigorously tested to avoid emitting cold temperatures that may be harmful to surrounding tissue. Therefore, attempting to freeze fat cells on your own with ice cubes or other cooling agents can lead to potentially severe complications, including a risk of frostbite, pain, and permanent tissue damage.

With CoolSculpting®, Dr. Tiffany McCormack can help you reduce areas of excess fat and have you up and running almost immediately after the procedure. For more information about this exciting technology and to arrange your private consultation, we invite you to call our office at (775) 284-2020 or contact us online today.