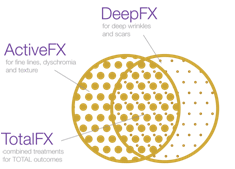 A new laser skin treatment system designed to improve an array of skin conditions in just one session is taking the world by storm and is now available from our board-certified Reno plastic surgeon, Dr. Tiffany McCormack. The ActiveFX™ and DeepFX™ laser treatments are fractional skin resurfacing procedures from Lumenis. This new laser system aims to provide non-surgical skin rejuvenation and skin tightening with only a minimal amount of downtime by stimulating healthy skin cells and collagen, providing you with a smoother, more youthful appearance. Contact McCormack Plastic Surgery to schedule a consultation for ActiveFX™ laser skin resurfacing treatment at our practice.
ActiveFX™ by Lumenis
The effects of natural aging and exposure to the sun's harmful rays can take a significant toll on our skin. The advent of laser technology to provide skin rejuvenation has revolutionized the world of cosmetic enhancement, and the ActiveFX™ laser system is one of the latest laser skin resurfacing treatments that works to improve the tone, texture, and tightness of your skin. The ActiveFX™ is a laser procedure designed to deliver results after one treatment equivalent to what often takes other laser treatments four or five sessions to attain. Our certified nurses will gently move the laser over the areas of skin targeted for treatment, while the light energy gently penetrates under the skin to stimulate collagen and regenerate healthy skin layers.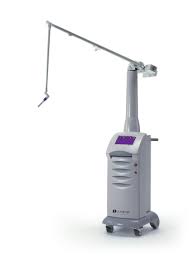 The ActiveFX™ fractional skin resurfacing treatment can rejuvenate skin affected by conditions such as:
Uneven pigmentation
Wrinkles and fine lines
Sun damage
Age spots
Skin laxity
Patients can expect some degree of redness, peeling, and mild discomfort as the skin heals and healthy skin layers are brought to the surface. Typical recovery times after ActiveFX™ laser treatment last from about 4 to 7 days. With proper care, results from the ActiveFX™ laser skin resurfacing procedure can last for years, and periodic touch-up treatments can maintain results and keep the skin healthy. ActiveFX™ has been featured in a number of recent news stories, and is said by many doctors to be one of the most effective new laser treatments available.
DeepFX™
Like the ActiveFX™, the DeepFX™ Fractional CO2 treatment is part of the TotalFX™ laser procedure. DeepFX™ works to significantly rejuvenate areas of skin affected by stretch marks and scars, and also smoothes out fine lines and creases and reduces the size of pores. Using laser energy, DeepFX™ stimulates collagen and elastin under the skin to promote healthy new skin growth and tighten the skin, while only penetrating a small fraction of the skin's surface. This speeds up the healing process and results in an average recovery time of about seven to ten days. Results of DeepFX™ often last for a long period of time, and can last even longer with proper skin care and protection from the sun's harmful rays.
TotalFX™
When used in combination, ActiveFX™ and DeepFX™ can produce an even more greatly improved skin texture. We invite you to contact McCormack Plastic Surgery to arrange your personal consultation where you can discuss a customized treatment plan based on your specific goals.
Active FX™ and Deep FX™ in the Media