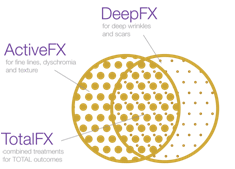 A new laser skin treatment designed to improve multiple skin conditions in as little as one session is taking the world by storm, and we are thrilled that this state-of-the-art system is now being offered by our board-certified Reno plastic surgeon, Dr. Tiffany McCormack. The ActiveFX™ and DeepFX™ laser treatments are fractional skin resurfacing procedures developed by Lumenis®. This new laser system aims to provide non-surgical skin rejuvenation and skin tightening with only a minimal amount of downtime. This is achieved by stimulating healthy skin cells and collagen, providing you with a smoother, more youthful appearance. Don't hesitate to contact M Spa today to schedule a consultation for laser skin resurfacing treatment at our practice.
What is Laser Skin Resurfacing?
Laser skin resurfacing is a comprehensive treatment designed to improve the appearance of your complexion through laser therapy, a powerful yet non-surgical means of skin rejuvenation. This technique is designed to penetrate the different layers of the skin with targeted laser energy in order to foster the production of new, healthy skin cells. Laser skin resurfacing can be highly effective at not only enhancing the tone and texture of your skin, but also treating wrinkles, sun damage, hyperpigmentation, loose skin, acne scars, and many other common skin concerns.
At M Spa, our aesthetic professionals use fractional laser technology, meaning the laser energy emitted is broken up into tiny beams that treat only a fraction of the skin in the targeted area. This can reduce downtime, as well as any potential discomfort caused by laser skin resurfacing. What's more, the ActiveFX™ and DeepFX™ lasers utilized by Dr. McCormack can penetrate the deeper skin layers to more extensively address damaged skin cells and stimulate collagen production.

ActiveFX™ by Lumenis
The effects of natural aging and exposure to the sun's harmful rays can take a significant toll on your skin. The advent of laser technology to provide skin rejuvenation has revolutionized the world of cosmetic enhancement, and the ActiveFX™ laser system is one of the latest laser skin resurfacing treatments that work to improve the tone, texture, and tightness of your skin. In a single treatment, the ActiveFX™ is designed to deliver results equivalent to what is often achieved in four or five sessions by other systems. Our certified nurses will gently move the laser over the areas of skin targeted for treatment, while the light energy gently penetrates under the skin to stimulate collagen and regenerate healthy skin layers.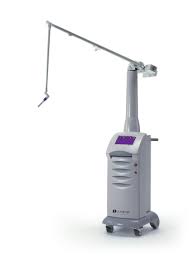 The ActiveFX™ fractional skin resurfacing treatment can rejuvenate skin affected by conditions such as:
Uneven pigmentation
Wrinkles and fine lines
Sun damage
Age spots
Skin laxity
Typical recovery times after ActiveFX™ laser treatment last about four to seven days. With proper care, results from the ActiveFX™ laser skin resurfacing procedure can last for years, and periodic touch-up treatments can maintain results and keep the skin healthy. ActiveFX™ has been featured in a number of recent news stories, and is considered by many doctors to be one of the most effective new laser treatments available.
DeepFX™
Like the ActiveFX™, the DeepFX™ Fractional CO2 treatment is part of the TotalFX™ laser procedure. DeepFX™ works to significantly rejuvenate areas of the skin affected by stretch marks and scars, smooth fine lines and creases, and reduce the size of pores. Using laser energy, DeepFX™ stimulates collagen and elastin under the skin to promote healthy new skin growth and tighten the skin while only penetrating a small fraction of the skin's surface. This can speed up the healing process and result in an average recovery time of about seven to ten days. Results of DeepFX™ often last for a long period of time, and the results can be prolonged with proper skin care and protection from the sun's harmful rays.
TotalFX™
When used in combination, ActiveFX™ and DeepFX™ can produce a more extensively improved skin texture. We invite you to contact McCormack Plastic Surgery to arrange your personal consultation, where we can formulate a customized treatment plan based on your specific goals.
Are There Any Side Effects From Laser Skin Resurfacing?
After laser skin resurfacing, patients can expect some degree of redness, peeling, and mild discomfort as the skin heals and healthier skin layers are brought to the surface. Swelling is common and can be controlled with ice packs or oral pain medication. Most men and women compare the sensation experienced after treatment to the feeling of having a sunburn. As the skin begins to peel and side effects start to diminish, the healing process can be accelerated by cleaning and moisturizing the treated area according to instructions.
How Much Does Laser Skin Resurfacing Cost?
Costs for laser skin resurfacing typically vary according to the type of laser used, the extent of concerns addressed, and the number of treatment sessions necessary to achieve your goals. On average, the price of laser skin resurfacing generally ranges between $1,500 and $3,500. However, a true cost estimate cannot be determined until your needs are assessed in a consultation. Rest assured that a member of our team will provide you with a personalized quote of your expenses after your skin concerns are evaluated. Our accepted payment methods include flexible financial arrangements from CareCredit®, ALPHAEON® Credit, and Prosper® Healthcare Lending, which each offer qualified patients a variety of payment plans with low- to no-interest rates and low monthly installments. These plastic surgery financing options can make it possible to renew your skin health and achieve a glowing complexion while adhering to the best arrangement for your budgetary concerns. If you have any questions about the cost of laser skin resurfacing with Active FX™ or Deep FX™, please call our practice for more information.