Congratulations on your new baby and growing family! Having a child is one of life's true fundamental gifts and certainly a challenging, yet equally rewarding, venture. As a board-certified plastic surgeon currently raising two children of her own, Dr. Tiffany McCormack knows firsthand the pure joy and exuberance mothers share when bringing a new life into the world. "As women and mothers, we possess an inherent nature to constantly sacrifice our time and well-being for the greater good of our family," Dr. McCormack states. "It is without question that the rigors of pregnancy, childbirth, and breastfeeding can have an adverse and unflattering effect on our bodies."
Typically, the affected areas of concern tend to be located in the abdomen, breasts, and skin. Helping women resurrect their pre-pregnancy figures is an area of particular interest to Dr. McCormack. Using her refined skills as a plastic surgeon, she can formulate a customized treatment plan to address your areas of concern.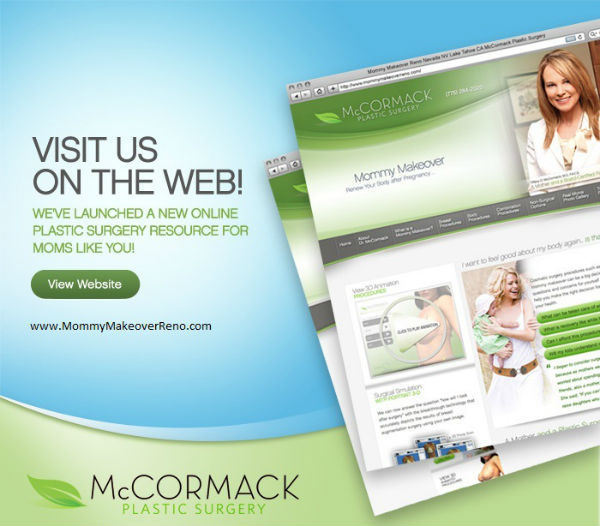 What is a Mommy Makeover?
A Mommy Makeover is a combination treatment plan in which two or more cosmetic surgery procedures are performed as a means of revitalizing the natural contours of a patient's body. This can be done to improve the regions of the body unfavorably affected by pregnancy and nursing, or to generally restore one's pre-baby body. A Mommy Makeover allows women who have had children to simultaneously rejuvenate multiple areas of concern during one comprehensive treatment plan. Each patient's surgical plan is completely personalized to their own needs and desires, so no two Mommy Makeovers are exactly the same. That said, many women have similar goals for a Mommy Makeover, which typically include some combination of restoring the appearance of younger-looking breasts; reshaping regions of excess fat buildup; and smoothing cellulite and/or excess skin.

What Concerns Can a Mommy Makeover Treat?
The procedures incorporated into a Mommy Makeover can address some of the most common physical changes that women experience after having children and/or breastfeeding. These concerns often include:
Loss of breast volume
Breast sagging
Loose abdominal skin
Hanging or protruding abdomen
Stretch marks
Cellulite
Excess fat in the hips, thighs, or upper arms
Stretched or elongated labial tissue
Depending on your individual goals, your Mommy Makeover may combine surgical and non-surgical treatments to achieve the desired results. It may also take place in more than one surgery—Dr. McCormack will be able to further elaborate on the optimal treatment timeline for you after she assesses your needs in a consultation.
What Should I Expect During a Mommy Makeover Consultation?
After a consultation in which you discuss your unique concerns with Dr. McCormack, you both will work together to develop a treatment plan to make your ideal appearance a reality. You will be able to ask Dr. McCormack all the questions you have regarding the best surgical timeline for your needs, recovery information, cost and financing details, and more. She will help ensure you understand every aspect of the procedure(s)—including the risks, benefits, and limitations of treatment—and you should leave with a thorough understanding of the Mommy Makeover process.
Your Virtual Preview with VECTRA® 3D Imaging
With combination surgeries like a Mommy Makeover, our team understands that it can be difficult for patients to envision the collective outcome of their individual enhancements. Fortunately, the cutting-edge technology at McCormack Plastic includes VECTRA® 3D imaging, which uses advanced computer software to simulate a three-dimensional "preview" of the anticipated results of your surgery! This can not only give you a realistic idea of what you can potentially expect from your Mommy Makeover, but the visualization created can also provide a good point of reference for you to better communicate your goals and desires to Dr. McCormack.
When is the Best Timing for a Mommy Makeover?
After having a child, many patients want nothing more than to start feeling comfortable in their own bodies again. For this reason, we understand why new mothers may want to initiate the Mommy Makeover process as soon as possible. In most cases, it's recommended to wait at least six months to one year after giving birth before undergoing another surgical procedure. Pregnancy changes the body significantly and it's necessary to give it time to settle and heal prior to additional surgery. The exact length of time you should wait before undergoing a Mommy Makeover also depends on individual factors, such as the procedures you're interested in and your overall goals. While some patience will be required before undergoing any cosmetic surgery, you can often start the consultation process sooner. This gives our team the opportunity to guide you through the different stages of a Mommy Makeover before you schedule your procedure(s). We look forward to meeting you in a consultation so we can personally advise you on the best time to undergo a Mommy Makeover according to your unique needs.
Although our surgical treatment options cannot be pursued immediately after giving birth, aesthetic services from M Spa — our non-surgical facility — can often help patients look and feel more rejuvenated. Our wide range of skin treatments, injectables, and body contouring options can be performed to reduce cellulite and address other concerns brought on by pregnancy, including a dull complexion, wrinkles, stubborn fat buildup, and more. While you're waiting to plan a Mommy Makeover, these minimally invasive and non-surgical treatments can give you the refreshed look you desire.
Breast Surgery Treatment Options
Breast Augmentation
We are all aware of the abundant advantages that breastfeeding can present for both mother and child. It is common, however, for your breasts to lose volume and contours after nursing your child. Breast augmentation is a procedure that restores volume to your breasts by placing silicone or saline implants either above or underneath the pectoral muscle. The results can leave you with larger, natural-looking breasts that restore both shape and fullness.
Breast Lift
When breast volume increases during pregnancy, the skin will stretch to accommodate the enlarged breast size. Unfortunately, this volume often diminishes after the cessation of breastfeeding, leaving many women with loose, excess skin that contributes to sagging breasts. A breast lift—or mastopexy—is designed to eliminate extra skin, recontour/elevate tissues, and redrape the skin to form a rejuvenated, "perkier" bustline.
Breast Augmentation Plus Lift
In some cases, a breast lift is recommended in conjunction with breast augmentation. Often referred to as a breast lift with implants, this treatment option is usually performed on patients who are concerned with loss of volume, contour irregularities, and loose, excess skin in and around the breast region.
Body Contouring Treatment Options
Liposuction
Liposuction is a dynamic procedure that serves to remove fatty deposits that have gathered in virtually any area of the body as a result of pregnancy. Typically, areas that respond well to liposuction include: the hips, waist, "love handles," thighs, legs, chin, and ankles. Liposuction can eliminate the excess fat and give you a more toned appearance.
Abdominoplasty
Abdominoplasty, or tummy tuck surgery, is a cosmetic procedure designed to flatten the abdomen or stomach area. Tummy tuck surgery is a popular surgical choice among mothers, as it is an effective method of tightening the skin in the stomach region as well as eliminating loose skin and stretch marks.
Liposuction Plus Abdominoplasty
In some cases, combining liposuction and abdominoplasty surgery is a great treatment option for women who wish to restore contours and curves to their bodies. This is particularly beneficial for individuals who are troubled by both loose, excess skin and stubborn fat build-ups throughout the abdomen.
CoolSculpting®
CoolSculpting® can often be a wonderful non-surgical solution for women who wish to eliminate excess fat, but do not need/desire surgical liposuction. Using an advanced process known as Cryolipolysis™, CoolSculpting® works to non-invasively freeze away fat cells in targeted areas, resulting in a slimmer, more toned contour. You can learn more about CoolSculpting® treatment at our leading med spa facility by visiting our sister site.
Arm Lift and/or Thigh Lift
In addition to the breasts and abdomen, various other regions of the body can be impacted by weight changes brought on by pregnancy. After losing weight following childbirth, many women experience an excess of lax, hanging skin and stubborn pockets of fat in the arms and/or thighs. Fortunately, these concerns can often be resolved with arm lift and thigh lift procedures, which help to restore a more shaped, toned look in these areas.
Vaginal Rejuvenation
Pregnancy and childbirth can result in a number of changes to vaginal tissue. With vaginal rejuvenation procedures like labiaplasty and the non-surgical FemTouch™ laser, concerns such as dryness, itching, tissue laxity, discomfort during intercourse, stretched labial tissue, and more can be effectively treated to help mothers restore a more comfortable quality of life.
Skin Treatment Options
Cellulite Treatment
Characterized by dimples and depressions in the skin, cellulite is a cosmetic concern that affects about 85 percent of women over the age of 20, including many mothers who have experienced skin and/or weight changes due to pregnancy. The good news is non-surgical treatments like Cellfina™ and Cellulaze™ can be used to reduce the appearance of cellulite in various regions of the body, leaving the skin looking smoother and healthier with lasting results.
Ultherapy®
Ultherapy® can be a great option for many mothers troubled by a minor to moderate degree of skin laxity and/or wrinkling in the face, neck, or décolletage following pregnancy. Using non-invasive ultrasound energy, this innovative treatment helps to tighten and rejuvenate skin in targeted areas through the stimulation of natural collagen growth.
How is the Mommy Makeover Procedure Performed?
In general, a Mommy Makeover most often utilizes general anesthesia. Depending on factors unique to you and the types of procedures selected, your treatment plan may take place all at once or be spaced out over multiple surgeries. Dr. McCormack will be able to provide you with more specific details about your Mommy Makeover after you both work together to develop a surgical plan. Breast procedures typically take approximately two hours to perform, while some body contouring surgeries, such as a tummy tuck, may take two to four hours to complete. Certain patients may require an overnight stay, but others should be able to return home on the same day as their Mommy Makeover — you will receive all the necessary information specific to your needs during one of your pre-operative appointments.
What is Recovery From a Mommy Makeover Like?
Recovery and downtime following a Mommy Makeover will depend on the particular combination of procedures performed, as well as one's natural healing process. Some degree of bruising and/or swelling can usually be expected in the treatment areas, though these effects should diminish over time. Any discomfort can generally be controlled with medication, and most women are able to resume normal daily routines as soon as they feel comfortable enough to do so. That being said, all strenuous activities—including lifting heavy objects, participating in physical sports, exercising vigorously, etc.—will typically need to be avoided for several weeks to help ensure proper healing.
Mommy Makeover Recovery Tips
Our team understands that recovering from surgery while managing the daily responsibilities of your child and family can be overwhelming. We've compiled a number of tips below that can help make the recovery period smoother while you heal from your Mommy Makeover: 
Prepare nutritious meals in advance of surgery to eliminate the need for cooking while you heal from your Mommy Makeover. 
Enlist additional help in advance to manage pickups and drop-offs, child supervision, chores, and other household tasks. This can allow you to rest after your surgery, and focus solely on your healing. 
Set up your own private recovery space prior to your procedure with everything you may need during the healing process. 
Ensure all necessary items are within reach before your Mommy Makeover, as lifting your arms above your head and heavy lifting may be restricted for four to six weeks. 
Closely follow Dr. McCormack's aftercare instructions, as adhering to these guidelines can speed up the healing process and further optimize your results. 
Always contact Dr. McCormack or our Reno office if you have any concerns during the recovery period, or if you would like to speak with a helpful member of our team. 
What Can I Expect From My Mommy Makeover Results?
It often takes a few months for the results of a Mommy Makeover to become noticeable as post-operative swelling gradually recedes. Most inflammation typically subsides within the first few weeks of the initial healing process, but it can take months for all evidence of swelling to completely resolve. If you received breast implants, patience may also be required while your implants settle into the correct positioning. Post-operative follow-up appointments will help Dr. McCormack monitor your results once your Mommy Makeover is complete.
Patients typically report feeling a sense of newfound confidence and rejuvenation after reclaiming their pre-pregnancy figures. As long as your weight remains stable and you have no future plans for pregnancy, the outcomes achieved should last indefinitely. Treatments to refresh the face, reduce wrinkles, or non-surgically reduce pockets of stubborn fat are always available at our med spa in the event that you would like to touch up your results in the future.
How Much Does a Mommy Makeover Cost?
Since the details of this combination treatment plan vary from patient to patient, the overall cost of a Mommy Makeover is similarly personalized according to each person's unique needs. For this reason, a consultation with Dr. McCormack is necessary to determine an accurate price range for a Mommy Makeover. Factors that may affect your cost estimate include:
The types of procedures chosen
Whether breast implants were placed as part of your Mommy Makeover
The surgical techniques utilized during each procedure
The complexity of your Mommy Makeover
You can trust that our helpful office team will be able to provide you with a personalized quote after your initial appointment. Various financing options are available for qualified patients via reputable national healthcare lenders such as CareCredit®, ALPHAEON™ Credit, and Prosper® Healthcare Lending. With flexible, low- to no-interest payment plans offered by each respective company, approved applicants typically have no trouble finding an ideal arrangement for their budgetary concerns. Please don't hesitate to contact McCormack Plastic Surgery if you have any questions about the cost of a Mommy Makeover.
Additional Mommy Makeover FAQs
Will I have visible Mommy Makeover scars?
All cosmetic procedures will leave some evidence of surgery, but any scarring should appear inconspicuously as long as patients are under the care of an experienced plastic surgeon. For many Mommy Makeover procedures, incisions are placed in the natural folds and contours of the body whenever possible to help ensure scars appear discreetly. Extensive scarring is not usually a concern, but we advise individuals to follow Dr. McCormack's wound care instructions carefully to increase the likelihood of scars fading over time.
Is a Mommy Makeover completed in one surgery?
It depends on which procedures you've chosen to include in your Mommy Makeover. With treatment plans that involve several major procedures, such as abdominoplasty and labiaplasty, a Mommy Makeover may need to be performed over multiple surgeries. However, cases that include relatively minor procedures may be completed in one operation. Our board-certified plastic surgeon will help you develop the safest and most efficient Mommy Makeover plan for your goals, needs, and lifestyle.
How long will it take to recover from a Mommy Makeover?
Each person's recovery period varies significantly based on the types of procedures performed. It's safe to assume that the amount of downtime necessary after a major surgery like abdominoplasty will outweigh the recovery time required after a less invasive procedure, such as liposuction. In general, we advise patients to take at least two weeks off from work and normal responsibilities to allow ample time to heal from their Mommy Makeover.
Can I still gain weight after a Mommy Makeover?
Yes, a Mommy Makeover will not prevent you from gaining weight in the future. In the interest of ensuring your results last as long as possible, we strongly recommend living an active, healthy lifestyle after surgery to help preserve the final outcome.
Is a plus-size Mommy Makeover possible?
Yes, a Mommy Makeover can still be performed on plus-size patients as long as they're healthy and good candidates for surgery. Each person is assessed on an individual basis and a Mommy Makeover can often achieve beautiful results for a range of different body types. Although the best outcomes are typically achieved when a patient is near their ideal weight, our team can help determine the most optimal treatments to help you achieve your goals.
At the time of your consultation, a more personalized idea of what to expect during and after Mommy Makeover surgery can be provided based on a custom treatment plan recommended for you. For more information, or if you would like to schedule a consultation, please contact our plastic surgery practice today.