Dr. McCormack Discusses "Non-Invasive Treatments for a Better Butt" with NewBeauty® Magazine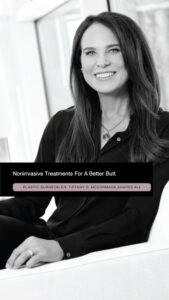 When it comes to the buttocks, there are many ways to improve shape, size, contour, and volume. A well-defined butt is often seen as a sign of youth and fitness in modern society, but many individuals are not willing to go under the knife to attain the curves they desire. Fortunately, there is a slate of non-surgical techniques available to help you achieve your goals and Dr. Tiffany McCormack, our board-certified plastic surgeon, recently spoke with NewBeauty® magazine about her favorite treatments to enhance the butt.
On average, over 90 percent of women experience cellulite and skin dimpling on the buttocks at some point in their lifetime. According to Dr. McCormack, Cellfina™ offers a highly effective non-surgical technique to smooth skin depressions and craters in the butt, resulting in a smoother and firmer backside. "It employs a minimally invasive needle-sized device to address cellulite-causing bands beneath the skin's surface," Dr. McCormack explains. Treatment usually takes less than an hour and outcomes can last one year, or possibly even longer.
M Spa, our physician-led med spa, offers a range of cosmetic treatments to enhance the face, breasts, and body without surgery. Cellfina™ and QWO® are both options to reduce cellulite in the areas of injection and our team would be happy to explain how each treatment can improve the buttocks. Please contact M Spa to book an appointment or to speak with a member of our office.