Can a Breast Lift Without Implants Achieve a Good Result?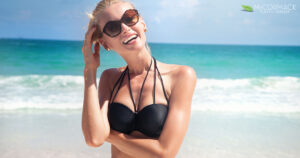 For many women seeking to enhance the appearance of their breasts via breast lift surgery (mastopexy), deciding whether or not to also receive implants can be a tough choice to make. When patients ask me if they can still attain a good mastopexy result without breast implants, my answer is this: Absolutely, though it depends on your overall expectations.
Undergoing breast lift surgery without the placement of implants will typically leave patients with a little less upper pole fullness in the breasts, but the results often look a bit more natural. If an individual is on the fence about what to do, I generally recommend they receive a breast lift without implants, because implants can usually be placed quite easily at a later date. This gives the patient time to be absolutely certain about whether or not they want breast implants in addition to their lift.
Ultimately, none of this is to say receiving breast implants in combination with a mastopexy will make the breasts appear unnatural – the right implants for the right patient can create an extremely natural look and feel in most cases. Both options have produced exceptional outcomes for women at my practice, and the right choice will be based on personal preference and the aesthetic goals of the individual.