Dr. Tiffany McCormack Predicts Aesthetic Trends in 2022 for NewBeauty® Magazine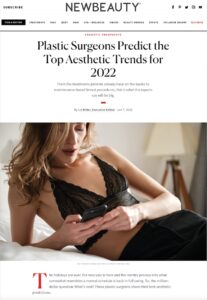 During the pandemic, cosmetic surgery was one of few healthcare-related fields that did not experience a devastating drop in demand. With 2022 seeing most men and women return to some sense of normalcy, the popularity of aesthetic plastic surgery has continued to rise even more than initially anticipated. Dr. Tiffany McCormack recently spoke with NewBeauty® magazine about the biggest aesthetic trends she expects to see more of throughout the year. Namely, she predicts a plethora of patients interested in breast implant removal, or "explant" surgery.
Removing one's breast implants can be a natural step for women who have reached an age in which they feel their enhancement is no longer necessary. Since there is now such a large number of women who have previously undergone breast augmentation, many plastic surgeons predict an uptick in breast implant removal surgeries. Whether the goal is to exchange your implants for another size/type or to remove them completely, Dr. McCormack theorizes that the procedure will be prominent in 2022. "If I had to say one thing [that I think will be big], it is probably more explants," Dr. McCormack states. 
It should be noted that from a medical standpoint, breast implants typically do not need to be removed unless you experience a complication, or you simply no longer want augmented breasts. Dr. McCormack would be happy to speak with you about your concerns and overall goals during a private consultation.
Dr. McCormack and our M Spa team stay updated on the latest and most effective aesthetic technologies to make your goals a reality. Please contact McCormack Plastic Surgery for more information on today's most popular treatments, or to speak with a friendly member of our office.