Highlights of Our Onsite Outpatient Facility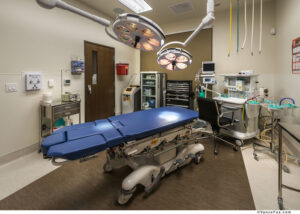 AAAASF-accredited onsite outpatient facility at McCormack Plastic Surgery is somewhat of a unique luxury as it enables our patients to receive the same safety and quality of surgical care they would in a hospital setting, all in the comfort and privacy of our own office. To further elaborate upon its benefits, we've listed a few key highlights of our onsite Out-Patient facility below.
It is accredited by the American Association for Accreditation of Ambulatory Surgery Facilities, Inc. (AAAASF) and meets all their standards of safety and excellence.
It is equipped with state-of-the-art surgical equipment for a comprehensive assortment of facial rejuvenation, breast enhancement, and body contouring procedures.
It enables our staff to provide an unprecedented level of personalized care and attention to each and every patient before, during, and after procedures.
It awards patients the convenience of visiting only one location for all consultations, operations, and postsurgical checkups.
It provides a discreet and private entrance for the utmost confidentiality.
Dr. McCormack and our staff are thrilled to offer such an advantageous commodity for patients interested in cosmetic or reconstructive procedures, and we look forward to continuing to provide the highest level of care possible. For more information about the importance of AAAASF accreditation for our Out-Patient facility, stay tuned for our next blog post.
Contact Our Office
To learn more about our onsite Out-Patient facility, or to schedule a consultation with Dr. McCormack, please feel free to contact us today.