How Can I Get Rid of Abdominal Stretch Marks?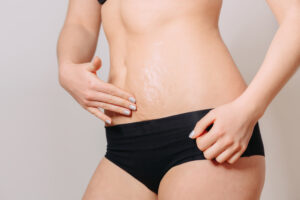 Stretch marks are a common aesthetic concern that manifests when the skin expands to compensate for rapid weight gain. When this increase in weight occurs, collagen fibers in the dermis are stretched and disrupted to the point that they become visible through the outer layer of skin (epidermis). While stretch marks can form on virtually any region of the body, one of the most notable areas is the abdomen, particularly for women who are (or have been) pregnant.
The good news is, the appearance of stretch marks in the abdomen can often be treated via tummy tuck surgery and/or laser skin resurfacing. Medically referred to as abdominoplasty, tummy tuck surgery is designed to remove loose, excess skin and tighten muscles in the abdominal region for a slimmer, more toned look. When stretch marks are present, the skin containing them can often be excised as part of the tummy tuck procedure, effectively resolving the aesthetic issue. In certain cases, however, surgery may not even be necessary to diminish the appearance of stretch marks. For patients who are bothered by this concern but don't need and/or desire abdominoplasty, laser skin resurfacing with DeepFX™ can often be an excellent option. Using fractional CO2 laser energy, this non-surgical technique works to tighten the skin and gradually promote new skin growth, eventually leading to a significant improvement in the appearance of stretch marks and various other concerns.
If you have stretch marks in the abdomen that you wish to get rid of, my advice is to seek the expertise of a board-certified plastic surgeon. Depending on the severity of your concern, as well as your specific cosmetic needs and goals, he or she should be able to recommend (and perform, if desired) the most appropriate treatment option—be it abdominoplasty, laser skin resurfacing, or a combination of the two.
– Tiffany McCormack, MD