Treating Diastasis Recti After Pregnancy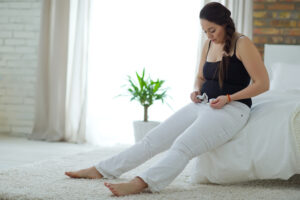 Following pregnancy, a cosmetic concern numerous women experience is a noticeable bulge—or "pooch"—in the mid to lower abdominal region that remains unaffected by a nutritious diet and regular exercise routine. In severe cases, this bulge may even stick out to the point that new mothers feel they still look pregnant.
This condition, which is medically known as diastasis recti, occurs when pressure in the stomach region during pregnancy causes the abdominal muscles to separate down the middle, resulting in an enlarged abdomen. While diet and exercise can certainly help many women restore their pre-pregnancy figure, diastasis recti generally proves immune to these efforts and usually requires surgical assistance to resolve.
Fortunately, diastasis recti can often be treated easily and effectively with tummy tuck surgery (abdominoplasty). During this body sculpting procedure, stretched and/or torn abdominal muscles are reattached and repaired, and any redundant skin in the area is excised and tightened for a firmer, more toned contour. In addition to muscle repair, issues like ventral or umbilical hernias can also be corrected as part of the tummy tuck procedure, and liposuction can be utilized to remove stubborn fat buildup throughout the midsection for an improved overall result.
If you are experiencing a stomach bulge following one or multiple pregnancies and wish to correct this aesthetic concern, I recommend scheduling a consultation with a board-certified plastic surgeon to determine if abdominoplasty would be appropriate for your specific needs and goals.
– Dr. Tiffany McCormack