How Do I Get Rid of Loose Arm Skin?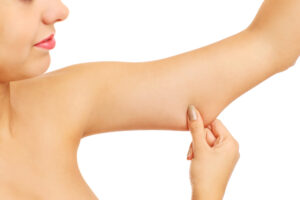 For many men and women, a tight and toned aesthetic in the upper arms can be compromised by excess skin and loose fatty deposits—concerns which often lead to a sagging or hanging appearance. Tiffany McCormack, MD, our board-certified Reno plastic surgeon, offers both surgical and non-surgical solutions to circumferentially contour the upper arms for a fitter, more defined look. The best skin tightening technique for your goals will depend on your unique needs, and can ultimately be determined while in consultation with Dr. McCormack.  
An arm lift is considered the most effective and powerful treatment to sculpt the arms, as surgery can remove loose skin and excess fat while tightening any musculature that may be contributing to sagging of the arm tissue. Medically referred to as brachioplasty, an arm lift can greatly benefit individuals who have lost a significant amount of weight, as well as post-bariatric surgery patients. The skin typically loses the ability to contract after significant weight loss, often making an arm lift the ideal treatment choice to smooth and refine the shape of the arms.
Dr. McCormack will thoroughly listen to your concerns in a consultation and recommend the best treatment based on your aesthetic goals. If you have any questions about the different ways to tighten loose skin around the arms, please don't hesitate to contact our practice today.