Dr. Tiffany McCormack Shares Recovery Advice for Breast Lift Patients with NewBeauty® Magazine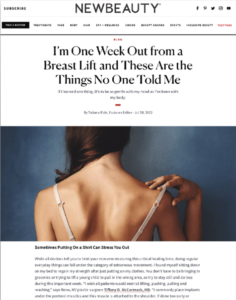 Making the decision to undergo breast lift surgery can be exciting and overwhelming. Dr. Tiffany McCormack, our plastic surgeon based in Reno, understands that there are many emotions patients experience both before and after their procedure. While every surgery requires a healing period, feeling mentally prepared before your breast lift can help facilitate a smoother recovery. To that end, Dr. McCormack recently spoke to NewBeauty® magazine about a few proactive measures patients can take before their procedure to make the recovery period more manageable.
In allowing your incisions and muscles to properly heal, Dr. McCormack states that doing less is more. "I wish all patients would restrict lifting, pushing, pulling and reaching," says Dr. McCormack. "I commonly place implants under the pectoral muscles and this muscle is attached to the shoulder. If done too early or aggressively, these activities can increase the risk for swelling, asymmetry and even bleeding after surgery." In fact, getting plenty of rest can be key to accelerating your recovery. Speaking to NewBeauty®, Dr. McCormack recommends preparing for your upcoming procedure by meal-prepping food for two weeks and arranging for any childcare or household help you may need during the initial healing process. This allows ample time for you to rest and recover peacefully after your surgery.
Dr. McCormack's top priorities are your health and safety during every stage of surgery. She will help ensure you understand what to expect during the healing process to allow for the best possible recovery after a breast lift. Reach out to our Reno and Lake Tahoe-area practice to schedule a consultation or to speak to a friendly member of our team.