Dr. Tiffany McCormack Voted "Best Plastic Surgeon" in Reno News & Review!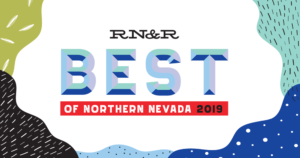 We are proud to announce that Dr. McCormack has won top plastic surgeon in the "Best of Northern Nevada 2019" section of the Reno News & Review! This patient-voted award speaks to the overwhelming support of the Reno and Lake Tahoe communities and on behalf of our entire practice, we can't thank you enough!
The "Best of Northern Nevada" contest is an annual survey voted on by thousands of Nevadans every year. Winners are selected during two rounds of voting, which takes place through write-in submissions from individuals all over the region. As the winner in the "Best Plastic Surgeon" category, Dr. McCormack is thrilled and humbled that patients have chosen her as among Nevada's favorites. Our team looks forward to continue providing an exceptional level of service and results for all of our patients' aesthetic needs!
Want to learn more about our plastic surgery and med spa services? Contact McCormack Plastic Surgery for more information about how we can help you achieve your aesthetic goals, or to schedule a consultation.