Frequently Asked Questions about Tummy Tuck Surgery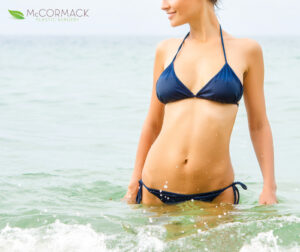 Due to its ability to create significant results that are often immediately noticeable, tummy tuck surgery – also known as abdominoplasty – is truly one of the most rewarding cosmetic surgical procedures offered at our practice. If you are considering this popular body contouring technique but wish to know a bit more before scheduling a consultation, our board certified plastic surgeon, Dr. Tiffany McCormack, has provided answers to some frequently asked questions below.
What cosmetic concerns can be treated?
Tummy tuck surgery is designed to improve the appearance of a prominent lower stomach region, which is often caused by loose, excess skin and lax abdominal muscles. In many instances, stubborn deposits of fat in and around the abdomen can also be removed.
What does the procedure entail?
Though the procedure will be tailored to address each patient's unique needs and goals, abdominoplasty generally involves the tightening of abdominal muscles, the excision of excess skin, and the removal of fat via liposuction. During a full tummy tuck, an incision will typically be made low on the abdomen, extending from one hip to the other. Similarly, the incision for a mini tummy tuck will be concealed low on the abdomen, though it is often a bit shorter in length. Depending on the technique and extent of work involved, the operation generally takes approximately two to four hours to complete.
What's the difference between a full and mini tummy tuck?
Both full and mini abdominoplasties involve the tightening of abdominal muscles and the removal of excess skin. The main difference is that the full tummy tuck is typically employed to rejuvenate the areas both above and below the belly button whereas the mini tummy tuck is generally confined to the lower abdomen below the belly button. To learn more, read my blog post here.
What is recovery like?
Following tummy tuck surgery, drain tubes will need to be left in place for about one week. Most patients experience some bruising and/or swelling, though these symptoms should subside over the course of a few weeks. The majority of individuals are able to return to non-strenuous jobs or activities after about one to two weeks; however, heavy lifting and/or strenuous physical labor should be avoided for at least six to eight weeks. To help facilitate healing, patients are often encouraged to walk around as soon as they feel comfortable enough to do so.
Will there be much pain after surgery?
Mild to moderate discomfort may be possible in the days following abdominoplasty, but any pain can often be managed and even alleviated with medication.
Will my scars be noticeable?
Incisions for tummy tuck surgery are made low on the abdomen – often near the pubic region – so any potential scarring can often be concealed by most articles of clothing, including bathing suits and the majority of underwear varieties. To learn more about abdominoplasty scars, click here.
Is it okay to have tummy tuck surgery before having kids?
While there are typically no major risks associated with becoming pregnant after tummy tuck surgery, it is typically recommended that patients wait until they are done having children before undergoing the procedure. Doing so can help ensure the results achieved are not compromised by the bodily changes that often occur during pregnancy. To learn more about tummy tuck and pregnancy, click here.
Contact McCormack Plastic Surgery
If you have any additional questions about tummy tuck surgery, or if you would like to schedule a consultation with Dr. McCormack, please do not hesitate to contact us today.