What Is Cellfina™?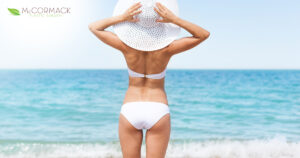 Are you bothered by the appearance of cellulite on your thighs and buttocks? Don't worry – you're not alone. In fact, an estimated 85% of women over the age of 20 experience this aesthetic concern, which is characterized by dimples, depressions, and small bumps on the skin. Thankfully, there are a few options for individuals interested in reducing the appearance of cellulite, the latest of which is an innovative, minimally invasive technique known as Cellfina™.
Performed in the comfort of our office by Dr. Tiffany McCormack, Cellfina™ is designed to release the specific fibrous bands responsible for visible skin dimpling with little to no discomfort and/or downtime. Using a tiny device (similar in size to a needle), light, quick pressure is applied to targeted connective tissues underneath the skin, eventually causing them to fray and release. Once this occurs, skin in the treatment region should smooth out for a more even, rejuvenated appearance. And the best part? The results of Cellfina™ have been known to last a full year (sometimes longer), far surpassing the longevity of other alternatives.
If you are interested in the non-surgical treatment of cellulite, we encourage you to check out our page on Cellfina™ to learn more, or contact us today to schedule a consultation to find out if this procedure is right for you.