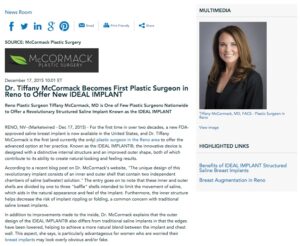 Reno plastic surgeon Tiffany McCormack, MD is one of few plastic surgeons nationwide to offer a revolutionary structured saline implant known as the IDEAL IMPLANT.
Reno, NV — For the first time in over two decades, a new FDA-approved saline breast implant is now available in the United States, and Dr. Tiffany McCormack is the first (and currently the only) plastic surgeon in the Reno area to offer the advanced option at her practice. Known as the IDEAL IMPLANT®, the innovative device is designed with a distinctive internal structure and an improved outer shape, both of which contribute to its ability to create natural-looking and feeling results.
According to a recent blog post on Dr. McCormack's website, "The unique design of this revolutionary implant consists of an inner and outer shell that contain two independent chambers of saline (saltwater) solution." The entry goes on to note that these inner and outer shells are divided by one to three "baffle" shells intended to limit the movement of saline, which aids in the natural appearance and feel of the implant. Furthermore, the inner structure helps decrease the risk of implant rippling or folding, a common concern with traditional saline breast implants.
In addition to improvements made to the inside, Dr. McCormack explains that the outer design of the IDEAL IMPLANT® also differs from traditional saline implants in that the edges have been lowered, helping to achieve a more natural blend between the implant and chest wall. This aspect, she says, is particularly advantageous for women who are worried their breast implants may look overly obvious and/or fake.
Apart from exceptional results, Dr. McCormack notes that perhaps the greatest benefit of the IDEAL IMPLANT® is the peace of mind it can provide patients. Whereas periodic MRI scans are necessary to detect any leaks or ruptures in silicone implants, she says saline implants will noticeably (yet harmlessly) deflate in the rare event of a leak or break. Consequently, she adds, patients with the IDEAL IMPLANT® never have to wonder whether or not their implants are fully intact.
Ultimately, Dr. McCormack states that she is pleased to add such an innovative and effective option to the selection of breast implants available at her practice, and she looks forward to the opportunity to help more breast augmentation patients achieve their cosmetic goals.
About Tiffany McCormack, MD, FACS
After earning her medical degree from the University of Arizona, College of Medicine, Dr. McCormack underwent plastic surgery training at Stanford University Medical Center. In addition to being a Fellow of the American College of Surgeons, she is certified by the American Board of Plastic Surgery and a member of such esteemed organizations as the American Society for Aesthetic Plastic Surgery and the American Society of Plastic Surgeons. Dr. McCormack is committed to patient safety and satisfaction, and she has received numerous honors and awards for her high quality of plastic surgical care.
For more information, visit plasticsurgeryrenotahoe.com, mommymakeoverreno.com, and plus.google.com/+TiffanyMcCormackMD/about. Dr. McCormack is available for interview upon request.
Contact:
McCormack Plastic Surgery
10791 Double R Boulevard
Reno, NV 89521
(775) 284-2020
Rosemont Media
(858) 200-0044
www.rosemontmedia.com