Benefits of IDEAL IMPLANT® Structured Saline Breast Implants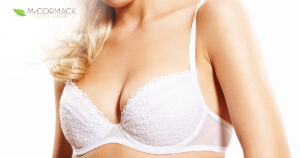 Since their re-approval by the U.S. Food and Drug Administration (FDA) in 2006, silicone breast implants have been far more popular than saline implants among women seeking breast augmentation. While both implant options offer a number of distinct advantages over the other, silicone is widely considered to be more natural-looking and feeling for the majority of patients. That is, until now.
Offered only by select plastic surgeons across the nation – including Dr. Tiffany McCormack – the IDEAL IMPLANT® is the first new saline implant to receive FDA approval in more than twenty years. The unique design of this revolutionary implant consists of an inner and outer shell that contain two independent chambers of saline (saltwater) solution. Positioned between these inner and outer shells are one to three "baffle" shells that help minimize the movement of the saline filler, creating a very natural feel and appearance. In addition, the unique internal structure of the implant is designed to decrease the risk of wrinkling and folding (which are believed to be chief causes of implant breakage and deflation), and the outer edges of the implant have been lowered to provide optimal contouring to the chest wall.
Another benefit the IDEAL IMPLANT® has to offer is the confidence and visible reassurance that the implant is intact. Unlike silicone implants that require routine MRI screenings to identify leaks or breaks, saline implants will visibly deflate, and the saline solution will be absorbed by the body without harm in the rare case of leak or rupture. This can provide peace of mind to patients who are concerned about whether or not the integrity of their IDEAL IMPLANT® has been compromised.
Ultimately, the IDEAL IMPLANT® can be an excellent choice for many women seeking to enhance the size and shape of their breasts, and potential benefits as they pertain specifically to your needs and goals can be discussed in full detail during a consultation with Dr. McCormack.
Contact Our Office
To learn more, or if you would like to schedule a consultation with Dr. McCormack, please feel free to contact us today.