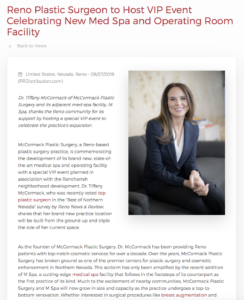 Dr. Tiffany McCormack of McCormack Plastic Surgery and its adjacent med-spa facility, M Spa, thanks the Reno community for its support by hosting a special VIP event to celebrate the practice's expansion.
Reno, NV — McCormack Plastic Surgery, a Reno-based plastic surgery practice, is commemorating the development of its brand new, state-of-the-art medical spa and operating facility with a special VIP event planned in association with the Rancharrah neighborhood development. Dr. Tiffany McCormack, who was recently voted top plastic surgeon in the "Best of Northern Nevada" survey by Reno News & Review, shares that her brand new practice location will be built from the ground up and triple the size of her current space.
As the founder of McCormack Plastic Surgery, Dr. McCormack has been providing Reno patients with top-notch cosmetic services for over a decade. Over the years, McCormack Plastic Surgery has broken ground as one of the premier centers for plastic surgery and cosmetic enhancement in Northern Nevada. This acclaim has only been amplified by the recent addition of M Spa, a cutting-edge medical spa facility that follows in the footsteps of its counterpart as the first practice of its kind. Much to the excitement of nearby communities, McCormack Plastic Surgery and M Spa will now grow in size and capacity as the practice undergoes a top-to-bottom renovation. Whether interested in surgical procedures like breast augmentation and tummy tuck surgery or advanced non-surgical treatments like CoolSculpting®, FemTouch™, Cellfina™, or FaceTite®, patients will be able to visit one all-encompassing location for their aesthetic needs upon completion of the new building.
A VIP event will be held in October to thank patients for their support in voting Dr. McCormack number one, and for fostering the growth of McCormack Plastic Surgery. Dr. McCormack states the upgrades to her acclaimed practice will be made with her patients' needs in mind. She believes the increased size and enhanced features of the new building will be well-suited to continue achieving the cosmetic goals of those in and around Reno with more convenience, privacy, and comfort than ever.
About Tiffany McCormack, MD, FACS
Dr. Tiffany McCormack is a board-certified plastic surgeon who specializes in aesthetic enhancement for the breasts, face, body. She is the founder and lead clinician of both McCormack Plastic Surgery and its adjoining medical spa facility, M Spa. Dr. McCormack is a Fellow of the American College of Surgeons, as well as a member of the American Society of Plastic Surgeons (ASPS) and the American Society for Aesthetic Plastic Surgery (ASAPS). She has been featured countless times in media publications like Reno News & Review and New Beauty® magazine. Dr. McCormack has received several awards for her natural-looking results and is well-known to the Reno and Lake Tahoe communities. Dr. McCormack is available for interview upon request.
To learn more, please visit plasticsurgeryrenotahoe.com or facebook.com/McCormackPlasticSurgery.
Contact:
McCormack Plastic Surgery
10791 Double R Boulevard
Reno, NV 89521
(775) 284-2020
Rosemont Media
(858) 200-0044
www.rosemontmedia.com