Dr. McCormack Discusses Demand for Post-Pandemic "Makeovers" in NewBeauty® Magazine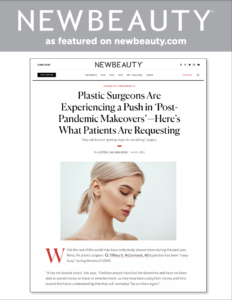 This year's surprising upswing in plastic surgery demand has been explored by NewBeauty® magazine before, but the publication recently delved into the most frequently requested cosmetic procedures by patients across the country. In determining the most popular treatment options during this phase of the pandemic, NewBeauty® magazine — a celebrated resource that covers the latest trends in beauty and aesthetic enhancement — consulted our board-certified plastic surgeon, Dr. Tiffany McCormack.
According to Dr. McCormack, her most commonly requested procedures have consisted of breast enhancement and body contouring options. In her experience, people are opting for "bigger" or more extensive cosmetic surgeries because they are now able to sacrifice the downtime. "I am doing a lot of breast, tummy tuck, and liposuction combo cases right now," Dr. McCormack states. She also notes an increased number of patients who seek body contouring surgery after weight loss, which may be an effect of lockdown and stay-at-home orders during the pandemic. "Those who have lost weight have done so because they are able to exercise outdoors with more flexible, at-home work schedules," Dr. McCormack comments. "People are not eating out as much and they are at home cooking healthy foods more frequently as well." As a result, Dr. McCormack states her surgical schedule is often encompassed by procedures designed to remove excess skin, such as a breast lift, body lift, thigh lift, or arm lift.
Dr. McCormack is a frequent contributor to NewBeauty® magazine and has been featured by the beauty outlet countless times. If you have a question about our services, or if you would like to discuss your concerns with Dr. McCormack in a consultation, please contact McCormack Plastic Surgery today.
Read the full article here.