Is There an Upper Age Limit for Breast Augmentation?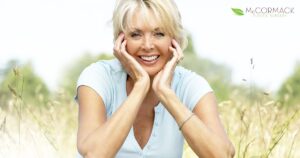 Year after year, breast augmentation consistently ranks as one of the most popular plastic surgery procedures performed. Although there is a minimum age for cosmetic augmentation – 18 for saline implants and 22 for silicone implants – there is technically no upper age restriction for individuals who want to enhance the appearance of their breasts later in life. In fact, many women in their 40s, 50s, 60s, and beyond have received implants to increase the size and improve the shape of their breasts with excellent results.
The predominant difference between younger and more mature patients opting for a breast augmentation commonly relates to their overall needs and desires. For instance, most women who are younger in age are mainly seeking to increase the size of their breasts. In contrast, the majority of older breast augmentation patients are often interested in restoring lost volume and/or addressing concerns like excess skin and drooping. As a result, a mastopexy (breast lift) is frequently performed in combination with augmentation for these individuals.
As opposed to age, the primary factors in identifying good candidates for breast augmentation are generally the patient's health and overall expectations. Those who are relatively healthy, have a low risk for operative complications, and who have a good idea of what can realistically be achieved tend to be good candidates for breast enhancement surgery.
If you are interested in breast augmentation, my advice is to seek the expertise of a board certified plastic surgeon. Following an extensive evaluation of your unique needs and goals, he or she will ultimately be able to determine if breast augmentation would be a safe and effective option for your desires, regardless of your age.