How Much Does Tummy Tuck Surgery Cost?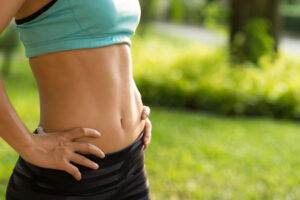 Tummy tuck surgery—also known as abdominoplasty—can be a great cosmetic option for many women and men desiring to get rid of lax, excess skin and/or repair stretched musculature in the abdominal region following a significant decrease in weight. As with the majority of aesthetic procedures, the total cost of this body contouring treatment will be influenced by a number of different factors. Some of the most common components influencing the price of a tummy tuck include:
The scope of the treatment area (entire abdomen or just lower abdomen)
The extent to which abdominal muscles need to be tightened and/or repaired
Whether or not treatment is combined with liposuction and/or performed as part of a Mommy Makeover
Fees for the plastic surgeon, anesthesia, and operating facility
The skill, experience, and credentials of the plastic surgeon
The geographic location of the practice
At McCormack Plastic Surgery, Dr. Tiffany McCormack strives to make aesthetic care an affordable reality for every individual. Since abdominoplasty is not covered by insurance (due to its "cosmetic" classification), she offers special plastic surgery financing for patients who would like to cover the expense of treatment with financial aid. Our practice teams with respected healthcare lenders such as CareCredit®, Prosper HealthCare Lending, and ALPHAEON® CREDIT to provide interested patients with several low- to no-interest monthly payment plan options. The approval process is quite simple, and using one of these trusted lenders can help make the cost of tummy tuck surgery comfortable for virtually any budget.
For an individualized abdominoplasty quote, we encourage you to schedule a consultation with Dr. McCormack. Following a detailed assessment of your unique needs and goals, she can provide a close estimate of what you can expect to pay for tummy tuck surgery. Please contact our practice today.