Dr. McCormack Explores Rising Trend in "Bigger" Cosmetic Surgeries During Pandemic with NewBeauty®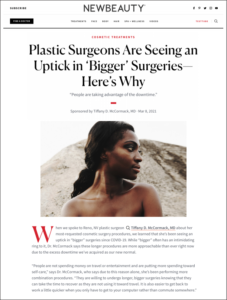 In the past year, many plastic surgeons have noticed an increased demand for plastic surgery as individuals in Reno and beyond have more time than ever to dedicate to downtime. Along with a more robust surgery schedule, board-certified plastic surgeon Tiffany McCormack, MD has also observed an upswing in the number of patients willing to pursue longer/more involved procedures. "[People] are willing to undergo longer, bigger surgeries knowing that they can take the time to recover, as they are not using it toward travel," Dr. McCormack tells NewBeauty® magazine — a national publication that explores the latest in cosmetic enhancement. Namely, she notes an increase in patients who have long wished to upgrade or replace their breast implants and finally have the time to pursue a revision procedure. 
Dr. McCormack also remarks that having a newly-built on-site plastic surgery facility equipped with the most meticulous COVID-19 safety protocols has helped in enhancing patient comfort about undergoing "bigger" surgical procedures, such as abdominoplasty and a Mommy Makeover. The expanded practice is three times the size of her previous office, outfitted with state-of-the-art HEPA filters, and features plenty of space to socially distance patients. "As the only surgeon, the number of patients flowing through in a day is limited and nicely spaced out. We don't have any sick patients here, so the risk of transmission is very low," Dr. McCormack adds. "We also run PCR COVID-19 tests on each patient before surgery to limit exposure. Patients appreciate the ability to avoid having their surgery in a hospital setting." 
In addition to the many plastic surgery procedures offered at McCormack Plastic Surgery, M Spa — the non-surgical branch of the practice — also offers a broad range of popular treatments, including CoolSculpting® and Genius™ RF microneedling. Please contact our Reno office to schedule your consultation or to learn more about our services.